The Luxmainhydraulic Heavy Truck Lift is a ground-column lift that can be designed with a lift weight of 15-60 tons according to your needs. It can be double-column, three-column and four-column. The PLA system detects the synchronism of each lift column, and if it is not synchronized, it automatically synchronizes to make the lift column synchronized.

| | | | |
| --- | --- | --- | --- |
| Max. lifting weight | 5000kg | Max. lifting height | 1850mm |
| Lifting (Descent) time | 50s-90s | Power supply | AC380V/50Hz |
| Power | 3kw | Air pressure | 0.4-0.6Mpa |
| Noise (Measuring at the console) | ≤70dBA | | |
How to buy?
First, the purchase of Heavy Truck Lift, can not be blindly purchased, to do a full market research, as well as field visits to determine the size of its company and its credibility. As a purchaser can not covet a little cheaper price and make a greater regret.
Second, the information you have investigated, choose the Heavy Truck Lift with good cost performance, choose from its technical parameters and practicality and versatility. There are usually many lifting machines, including (vehicle type, fixed type, hydraulic type). , scissor, etc.) Each of the technical parameters and uses are slightly different, but there are many similarities in the function, therefore, as a customer you have a purposeful purchase, that is, you buy a lifting mechanical to do What, and which lifting machine can meet your needs and use more.

3. After the equipment arrives, check whether the random technical data is complete, whether the random accessories, tools and accessories are consistent with the list, whether the equipment and accessories are damaged or defective, and the unpacking acceptance record is made.
Company Information:
Yantai Tonghe Precision Industry Co.,Ltd was founded in 2007, locates in Yantai City. We are a manufacturer of inground car lifts and a member of China Automobile Maintenance And Repair Equipment Trade Association.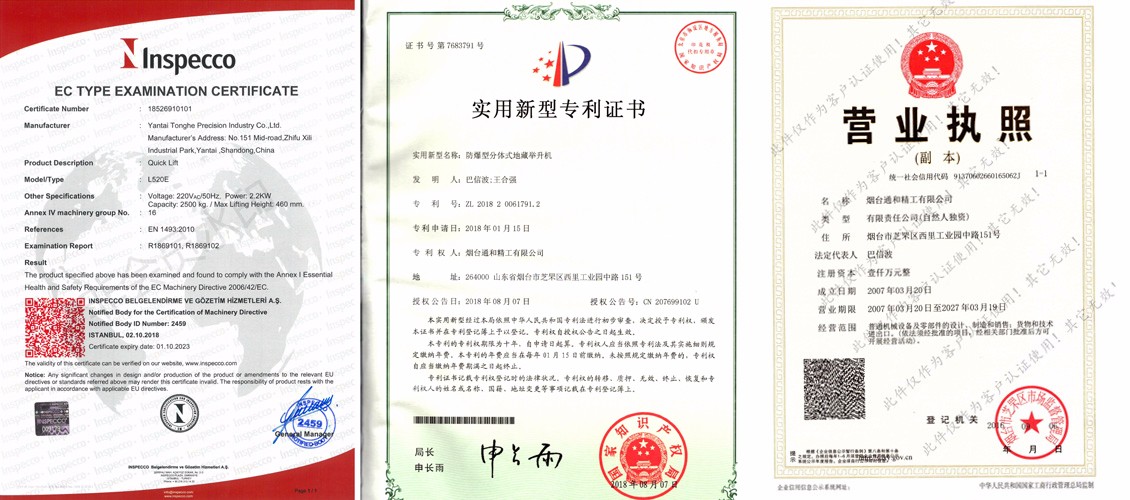 Equipped with over 100 sets of advanced manufacturing equipments and precision inspection instruments, Yantai Tonghe dedicates in the design & development, manufacturing and services of inground lifts, hydraulic cylinder and hydraulic control system. The annual production capacity in inground car lifts reaches 10,000 sets, specialized high pressure oil cylinders reaches 40,000 pieces and hydraulic control system reaches 10,000 sets. The products are mainly car jack lift, Quick Lift, Inground Lift, etc. Our products are widely applied in Automotive Industry, Vehicle maintenance, Construction machinery etc.
FAQ:
1.How about the package of the quick lift and the capacity of one 20'container ?
The lifting frames are packaged individually in cartons and the power unit is packaged in wooden cases. Each 20-foot cabinet can hold 75 sets of equipment。
2.Can the quick lift be used on a sloped ground?
To the extent of ensuring the safety of vehicle and operator ,Slopped ground or non-hardened ground is not recommended used
Is Luxmain quick lift can be used on glass steel grille? What is the minimum thickness of glass steel grille
Can be used on glass steel grille , but the glass steel grille can not be overhead.
Shown as below:。
3.Can the power supply of LUXMAIN Quick Lift be 110V or 380V?
The 110V power supply can be realized by supporting the corresponding 110V power unit; for safety, the 380V power supply is not recommended.
By changing the power outlet, it can adapt to the power interface standards of all countries in the world.
4.What is the weight of Luxmain Quick Lift?
The single-sided lifting frame weighs approximately 42kg and is equipped with a roller that can be dragged or translated. The power unit is about 23kg.
5.What is the warranty of Luxmain Quick Lift ?
One year